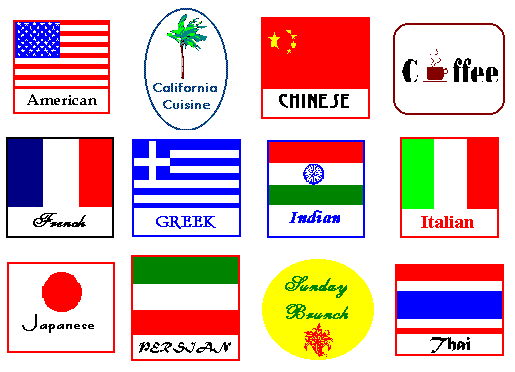 Always under construction.
The following restaurants are located in Southern California
Aegean Cafe, 540 S. Coast Highway. Laguna Beach 714-494-5001 - GREEK, Live Music, Greek Dancing on Weekends.
Amelia's on Balboa Island, 311 Marine Avenue, Balboa Island 714-673-6580 - ITALIAN, Fresh Fish from all over the World, Cozy European Ambience, Private Parties, 8-28 guests, Lunch, Dinner, Sat. & Sun. Brunch.
Armani Restaurant, 3333 Bristol, Costa Mesa 714-754-0300 - ITALIAN.
Bangkok 4 Restaurant, 3333 Bear, Costa Mesa 714-540-7661 - THAI.
Cafe Piemonte, 18633 E. Chapman Ave., Orange 714-532-3296 - NORTHERN ITALIAN.
C'est Si Bon Bakery, 3444 E. Coast Highway, Corona Del Mar 714-675-0994 - FRENCH, Specialty Coffees, Restaurant, French bakery.
Da Bianca Trattoria, 7448 E. Chapman Ave., Orange 714-289-1508 - ITALIAN.
Franco's, 4237 Campus Drive, Irvine 714-854-5599 - CALIFORNIA-ITALIAN, near UCI.
Il Fornaio Cucina Expressa, 650 Anton Blvd, Costa Mesa 714-668-0880 - ITALIAN.
Gesshin Restaurant, 16492 Beach Blvd. Westminster 714-842-5581 - JAPANESE, Sushi and Seafood.
HATAM, 1112 N. Brookhurst St. Anaheim, 714-991-6262, 714-991-6060 - PERSIAN
Morton's of Chicago, 1661 Sunflower, Santa Ana 714-444-4834 - AMERICAN, Steakhouse specializing in USDA Prime Beef, Lunch weekly, Dinner nightly.
Orange Blossom Chinese Restaurant, 3804 E. Chapman Ave., Orange 714-633-1888 - CHINESE.
Pascal, 1000 Bristol St. , Newport Beach - FRENCH PROVENCAL, Casual ambience, Rated #1 in O.C. by Zagat for past three years.
Prego Ristorante, 18420 Von Karman Ave, Irvine 714-553-1333 - ITALIAN.
RENAISSANCE CAFE, 234 Forest Avenue, Laguna Beach 714-497-5282 - CALIFORNIA, Specialty Coffee Drinks, Fine Wines, Live Music Nightly, European Ambience, Breakfast, Lunch, Dinner, Live Music Nightly.
Romeo Cucina Ristorante Italiano, 249 Broadway, Laguna Beach 714-497-6627 - ITALIAN.
Rothchild's Restaurant, 2407 E. Coast Highway, Corona Del Mar 714-673-3750 - NORTHERN ITALIAN, Fine Wines, European Ambience.
Royal Khyber, 1000 N. Bristol St., Newport Beach 714-650-5112 - INDIAN, Muglai cuisine, charcoal-fired ovens, Atmosphere of Moghul Elegance, Lunch, Dinner, Sunday Brunch.
Sophia's, 1390 N. Kraemer Blvd., Placentia 714-528-2021 - GREEK, Patio dining, Health-concious menu, Lunch, Dinner, Take-out.
Steamer's Cafe, 138 West Commonwealth, Fullerton 714 871-8800 - CAFE - Espresso, Cappuccino, Fresh Food, Pastries, Live Entertainment.
Stuft Noodle, 215 Riverside Ave. Newport Beach 714-646-2333 - ITALIAN, Award-Winning Italian Cuisine, Outstanding Wine List, and Full Bar, Banquets to 60.
Summit House Restaurant, 2000 E. Bastanchury Road, Fullerton 714-671-4111 - AMERICAN, panoramic view of O.C. from atop the mountain. Specializes in prime rib. Elegant atmosphere. Lunch on weekdays and Dinner nightly.
Internet access provided by: CruzNet
---